Cancer is an important area of inquiry for VA researchers. A recent VA study reported that around 40,000 cancer cases are reported to VA's Central Cancer Registry annually, about 3 percent of all cancers in the United States.
The five most frequently diagnosed cancers among VA cancer patients were prostate, lung and bronchial, colorectal, urinary and bladder cancers, and skin melanomas. This list is similar to that for American men as a whole.
The very first centrally funded VA research laboratory was the department's tumor research unit, set up in Hines, Ill., in 1932. The unit did some of the first studies on the link between smoking and lung cancer, an issue VA researchers have continued to look at over the years.
Today, VA researchers conduct laboratory experiments aimed at discovering the molecular and genetic mechanisms involved in cancer; studies looking at the causes of disease; clinical trials to evaluate new or existing treatments; and studies focused on improving end-of-life care.
Major Accomplishments
VA researchers documented a link between smoking and lung cancer as early as the 1940s.
The nicotine patch was developed by VA researchers.
The superiority of colonoscopy to sigmoidoscopy as a primary screening method for colon cancer was first demonstrated in VA.
VA's PIVOT (Prostate Cancer Intervention Versus Observation Trial) study documented that observation is as effective as surgery in treating early-stage prostate cancer.
Selected Milestones and Major Events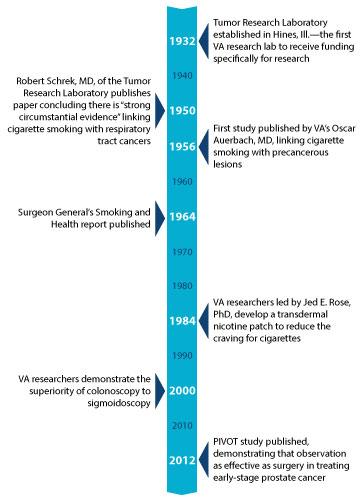 Overview
Cancer is a general term that includes more than 200 different diseases. In all forms of cancer, cells in the body grow and multiply abnormally, eventually taking over and destroying normal tissue.
The main type of cancer are leukemias and lymphomas, involving the blood and related tissues; carcinomas, which occur in the skin, glands, and certain organs; and sarcomas, which involve muscles and connective tissue.
VA researchers have long been interested in the causes of cancers, in finding new treatments for different forms of cancer, and in evaluating existing treatments. In 1930, the year the Veterans Administration (the predecessor to today's Department of Veterans Affairs) was established, the Hines, Ill., VA hospital created a cancer treatment center, in which surgeons, radiologists, and specialists worked together to provide the latest treatments for cancer patients.
Two years later, Hines established a Tumor Research Laboratory to complement the work of the center—VA's first laboratory to receive funds specifically for research work.
Smoking and Cancer
The laboratory's first success came through the work of Robert Schrek, MD, who was among the first researchers to look at the effects of radiation on cancer cells. Schrek also did pioneering studies on how skin cancers developed, and on the effects of cigarette smoking on cancers of the lung, larynx, and pharynx.
Schrek's work was followed up by the work of Oscar Auerbach, MD, of VA's East Orange hospital. Auerbach's landmark animal research study found that smoking for three years caused major changes in the lungs of animals who were taught to inhale cigarettes—and that many developed cancer. Auerbach was later a participant in the first Surgeon General's report, published in 1964, which explained the harmful effects of smoking to America and the world.
In 1984, VA Research made a major contribution toward helping Veterans quit smoking through the development of the nicotine patch. The patch was developed by Jed Rose, PhD, along with his brother Daniel Rose, MD, and Murray Jarvik, PhD. The patch, which Jed Rose first tested on himself, transfers nicotine into the bloodstream to reduce cravings for the substance.
Prostate Cancer
Because VA has established a relationship between exposure to Agent Orange or other herbicides during military service and prostate cancer, VA researchers have worked hard to find additional information about this particular form of cancer.
In 2012, VA's Prostate Cancer Intervention Versus Observation (PIVOT) trial, conducted by VA's Cooperative Studies Program, found no difference in survival between men with early-stage prostate cancer who had their prostate surgically removed and those who were simply watched by their doctors, and were only treated as needed to address symptoms if they occurred.
In 2013, another trial, this one funded by the National Cancer Institute and involving VA investigators, found that surgery and radiation treatments for prostate cancer both have serious side effects, and that differences in side effects between the two kinds of treatments even out by 15 years after surgery.
Another recent study, based at the Kansas City (Mo.) VA Medical Center, found that a combination of genes for prostate-specific antigen (PSA) and prostate stem cell antigen (PSCA) seems to stop prostate tumors from growing in mice. When this combination was given to mice with prostate tumors, the mice churned out cells (antigen-specific T cells) that attacked the tumor cells—and 80 percent of the mice became tumor-free.
Colon Cancer
Another of VA's research objectives in treating cancer is improving doctors' ability to diagnose colon cancer—a type of cancer that affects about 150,000 Americans each year. Colon cancer can be cured if diagnosed early, yet one-third of patients who develop colon cancer will die from the disease.
VA Cooperative Study 380, the results of which were published in 2000, found that colonoscopic screenings (in which a long, flexible, tubular instrument is used to visually inspect the entire colon) could detect abnormal growths called neoplasms better than sigmoidoscopy (a flexible instrument that inspects only the lower colon).
More recently, a study by researchers at the Palo Alto VA Medical Center found that while doctors use colonoscopy to find abnormal growths, called polyps, which protrude from the lining of the colon, difficult-to-detect flat abnormal growths are more common in U.S. patients than was previously thought. These flat growths are much more likely to be cancerous than are polyps.
Palo Alto researchers also recently found that spraying with a blue dye, a technique adapted from Japanese physicians, makes it easier to find abnormal growths in the colon, including flat growths.
In another study, published in 2012, researchers found that virtual colonoscopy is as accurate as conventional colonoscopy in finding potentially cancerous polyps. Virtual colonoscopy is a less invasive form of colonoscopy in which physicians use CT scanners to hunt for cancers and polyps.
Patients undergoing virtual colonoscopies do not need to use laxatives before the procedure, often viewed as the worst aspect of a colonoscopy.
At present, VA is in the process of enrolling up to 50,000 Veterans in a trial that will compare the long-term health effects of colonoscopy screenings versus fecal occult blood testing, a simple test in which a small plastic device is used to sample feces. The sample is then checked in the lab for signs of human blood. This is the largest VA Cooperative Studies Program effort to date, aside from the ongoing Million Veteran Program, an effort to learn more about how genes affect health.
Breast Cancer
While most of the patients VA treats are male, the department is seeing increasing numbers of woman Veterans as more and more women join, and eventually leave, the military. VA researchers are therefore looking closely at breast cancer, its causes, and treatments for the disease.
One such study is taking place at the Washington, DC, VA Medical Center, where researchers are looking at a protein called annexin 2, which is activated in women only when cancer is present. The research team hopes that if the production of annexin 2 can be blocked, breast cancers will starve to death. They are now testing an antibody that may be able to stop production of the protein on mice.
In the future, VA will continue to focus on discovering the sources of cancer cells in the body and ways to eradicate them; will evaluate new and existing treatments; and will focus on improving end-of-life cancer care for those with terminal diagnoses. In addition, our researchers will focus on how to maintain good health and enhance the quality of life of the increasing number of cancer survivors.
More on our Website
Home-based kits boost cancer screening rates, VA Research Currents, December 9, 2013
Agent Orange linked to aggressive prostate tumors, VA Research Currents, Summer 2013
VA team says blue-dye method boosts power of colonoscopy to ward off cancer, VA Research Currents, Summer 2013
Study backs less frequent mammograms for most women, VA Research Currents, May 2013
Product made from soy and mushroom may aid in prostate cancer treatment, VA Research Currents, May 2013
Prostate cancer trial finds similar long-term outcomes from surgery, radiation, VA Research Currents, February 2013
Natural antioxidant bolsters cancer drug, VA Research Currents, February 2013
VA study adds to evidence on health benefits of smoking bans, VA Research Currents, December 2012-January 2013
Selected Scientific Articles by our Researchers
Historical
Tobacco Smoking as an etiologic factor in disease; cancer. Schrek R, Baker LA, et al. VA's first major study linking smoking to cancer. Cancer Res. 1950 Jan; 10(1):49-58.
The effect of direct cigarette smoke inhalation on the respiratory tree of dogs. Auerbach O, Hammond, EC, Kirman D, Garfinkel L, Stout AP. Auerbach's seminal paper on the effects of smoking Natl Cancer Inst Monogr 1968 Jun;28:65-67
Transdermal administration of nicotine. Rose JE, Javik ME, Rose KD. A paper describing the value of the nicotine patch. Drug Alcohol Depend. 1984 May;13(3):209-13
The Prostate Cancer Intervention Versus Observation Trial: VA/NCI/AHRQ Cooperative Studies Program #407 (PIVOT): design and baseline results of a randomized controlled trial comparing radical prostatectomy with watchful waiting for men with clinically localized prostate cancer. Wilt TJ. Baseline information on VA's PIVOT trial. J Natl Cancer Inst Monogr, 2012 Dec; 2012(45):184-90
Use of colonoscopy to screen asymptomatic adults for colorectal cancer. Veterans Affairs Cooperative Study Group 380. Lieberman DA, Weiss DG, Bond JH, Ahnen DJ, Garewal H, Chejfec G. VA study demonstrating the value of colonoscopies compared to sigmoidoscopy. N Engl J Med 2000 Jul 20.
Recent
Long-Term Mortality after Screening for Colorectal Cancer, Shaukat A, Mongin S, Geissner M, Lederle F, Bond J, Mandel J, Church T. Fecal occult bloot tests, which detect blood in stool samples, are effective in reducing deaths from colorectal cancer. N Engl J Med 2013; 369;1106-1114, September 19, 2013.
Expansion of screening mammography in the Veterans Health Administration: Implications for breast cancer treatment, Kvasnovsky CL, Kesmodel SB, Gragasin JL, Punnoose V, Johnson PA, Goel, R, Reddy SK, Pierson RN, Jain A. As patient volumes for mammography increase with intensive screening, VA hospitals may benefit from acquiring a full complement of on-site breast care services. JAMA Surg, 2013 Nov;148(11):999-1004.
The quality of supportive cancer care in the veterans affairs health system and targets for improvement. Walling AM, Tisnado D, Asch SM, Malin JM, Pantoja P, Dy SM, Etner SL, Zisser AP, Schreibels-Baum H, Lee M, Lorenz KA. The authors measured evidence-based cancer care processes in 719 patients with advanced cancer, and found several care gaps. JAMA Intern Med, 2013 Dec 9; 173(22):2071-9.
Association of High-Volume Hospitals With Greater Likelihood of Discharge to Home Following Colorectal Surgery. Balentine CJ, Naik AD, Robinson CN, Petersen NJ, Chen GJ, Berger, DH, Anaya DA. Patients having colorectal surgery at high-volume hospitals are significantly more likely to recover and return home after surgery than individuals having operations at low-volume hospitals. JAMA Surg. 2014 Jan 15 (epub ahead of print.)